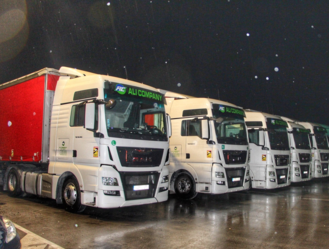 Responsibility, safety and quality
are indispensable components of our long-standing business.
Dating back to
2003
, we offer
international transport services
to our clients.
As an international company, we transport
shipping containers
(20ft, 40ft, 45ft), as well as
transporting goods by tautliners
in road traffic.
We dispose with a fleet of
40 vehicles
, of which: 23 semi-trailers for special container transport and 17 (mega) of the same for tautliner transport of goods.
Currently, there are 60 employees in our company.
Moreover, we own the
service for our vehicles
. Well-equipped mechanic workshops and skillful mechanics are behind the service and repair of all our vehicles.
Our goal is the contentment of our customers which we achieve through the constant education and progress in the field of international transport.
Business and availability of our services:
Transport of shipping containers:
The first transportation of goods by shipping containers in the 1950s, made a historical step in the world, in terms of transportation.
Today, decades later, this revolution in the tranport of goods has brought more practical, easier and faster business, which has greatly contributed to globalization. Therefore, the transport of goods by shipping containers is an inseperable and necessary branch of a successful economy.
When we talk about shipping containers, we are available to our clients all around the world.
Transport of goods by tautliners:
We offer tautliner transport services in the following areas:
Belgium
Germany
Netherlands
France
Luxembourg
Austria
Croatia
Serbia
Slovenia
Bosnia and Herzegovina
All our vehicles for tautliner tranport have a
cargo insurance certificate (EN 12642 XL).